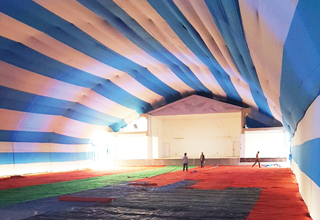 ITANAGAR, Dec 15: Preparations are almost complete for the 5th North-East National Level Karate Championship, and the Arunachal Karate Do Association is ready to conduct the event from 16 December.
A temporary steel structure (pandal) has been built at the Nyokum Lapang ground here to conduct the championship for both 'Kata' and 'Kumite' events.
More than 500 karate players from the eight North-Eastern states, and teams from the Darjeeling Gorkha Hills Council, the Services, and the Arunachal Pradesh Police Sports Control Board will participate in the three-day event, according to the organizing committee.
Prior to the beginning of the main event, a karate referee and a judges' seminar and examination will be conducted by member of the Referee Commission of the Karate Association of India, Rajnesh Choudhary, on the first day.