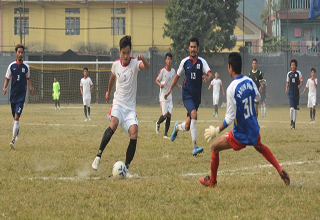 Capital Complex, Lower Subansiri enter semis
NAHARLAGUN, Dec 15: Capital Complex and Lower Subansiri became the first two teams to enter the semi-finals of the 16th Tadar Tang State Level Football Tournament.
Capital Complex defeated Papum Pare 3-2 in a keenly contested first quarterfinal match, while Lower Subansiri edged past East Kameng 1-0 in the second quarterfinal played at the Rajiv Gandhi Stadium here on Friday.
Papum Pare went 1-0 up against Capital Complex through a penalty kick taken by Techi Takar in the 21st minute. But the team could not hold the lead as RD Karma equalized for Capital Complex three minutes later with a close-range shot.
Papum Pare again took the lead, when Hari Teli scored just before the break (2-1).
Maintaining pace with the fluctuating fortunes of the game, Karma again came to the rescue of Capital Complex and restored the parity, scoring in the second half (2-2).
The match went to extra time after both the teams tied 2-2 in regulation time.
Capital Complex launched a couple of attacks during extra-time and their hard work paid dividend, when Karma scored his third goal of the match and his second consecutive hat-trick to secure a place for his team, Capital Complex, in the semi-finals.
In the second quarterfinal, Puji Noha scored the winning goal for Lower Subansiri in the 78th minute.
Defending Champion West Siang will meet Lohit at noon in the third quarterfinal, while Kra Daadi will be up against East Siang in the fourth quarterfinal at 1.45pm.