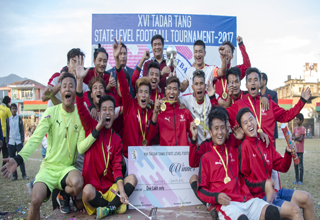 NAHARLAGUN, Dec 20: Capital Complex reclaimed the Tadar Tang State Level Football Tournament title after a gap of two years, defeating Lower Subansiri by a solitary goal in its 16th edition at Rajiv Gandhi Stadium here on Wednesday.
Two-time champion Capital Complex had last won the tournament in 2015 at Tezu, Lohit.
The play started on an aggressive note with players of both the teams trying to score first and gain the upper hand; but neither side was able to score in the first half.
After an unproductive first half, when the second half began, Capital Complex seemed to be a different team with improved ball passing and receiving. Their coach must have said something to them.
RD Karma once again proved to be the savior of his team, Capital Complex, as he scored the match-winning goal – and his tenth goal in the tournament. Karma netted the only goal of the match, receiving a well measured pass from the left flank.
Lower Subansiri made some last-ditch efforts to steal a draw, but all their efforts were thwarted by a rock-solid defence.
Earlier, Chief Minister Pema Khandu, who witnessed the match from the beginning till the end, reiterated his government's support for promotion of sports, particularly development of sports infrastructure. He said that Rs 15 crore has been allocated for upgrading the Rajiv Gandhi Stadium.
Responding to a memorandum submitted by the Arunachal Pradesh Football Association, the chief minister assured to provide corpus fund for the association. He also assured that from next year onwards, fund allocation for Tadar Tang tournament will be increased.
Later, the chief minister gave away the prizes and trophies to the winner and the runner-up team, and also the individual award winners.
Winner Capital Complex was awarded Rs 1 lakh along with the coveted trophy, while the runner-up team was given Rs 50,000 with trophy. All the individual award winners were given trophies with Rs 5000 each.
Puji Noha of Lower Subansiri was adjudged the 'best player' of the tournament, while the award for the 'best emerging player' went to Charu Lalum of Kra Daadi.
RD Karma with 10 goals in his kitty became the highest scorer. Gyamar Sankio was adjudged the 'best goalkeeper'.
East Kameng won the 'best fair play' team award/trophy.
The chief minister lowered the tournament flag, marking the end of the state's 42-day-long top football event.