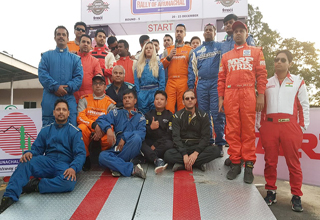 Staff Reporter
ITANAGAR, Dec 20: Round 5 of the MRF FMSCI Indian National Rally Championship (INRC) 2017, also named the 'Rally of Arunachal', was given a ceremonial flag off by Chief Secretary Satya Gopal from the state guest house here on Wednesday.
Top rally drivers of the country, including three-time APRC champion Gaurav Gill, will hope to assert their supremacy as the teams leave for Ziro on Thursday to officially begin the race.
This is the first time that Arunachal Pradesh is hosting a national rally.
While Gill is still in the lead with 50 points, INRC leader Dean Mascarenhas and defending champion Karna Kadur are snapping on his heels with 45 and 43 points.
A total of 20 cars are competing in the national championship, with four participants from Arunachal, and eight from other states of the Northeast.
Gill said that although he has earlier been part of the Arunachal Festival of Speed, it was different from a rally.
He said that he was not particularly familiar with the terrain here in Arunachal, but was hopeful that it would perfectly suit the event as Lhakpa Tsering, President of the Motorsports Club of Arunachal and a rally driver himself, has the required knowledge to find the best track and route.
Speaking to this daily, Arunachal's Tsering Tashi said that it was a great opportunity for his team to be able to race alongside top drivers of the country.
Tashi had earlier participated in two other rallies held in the state – the Arunachal Festival of Speed in Dirang, and the 4×4 Fury in Dambuk.
Tashi, who is the co-driver to Jitu Kalita from Arunachal, will be participating in the amateur category with other racers from the Northeast.
The other team of two from Arunachal include Phurpa Tsering and Naku Hage Chada.
Happy that Ziro will be playing host to the national championship for the first time, local MLA Tage Taki said, "Ziro is all set to hold the rally and the roads have been developed as per the rally's requirement."
President of the Motorsports Club of Arunachal, Lhakpa Tsering, also said that it was an opportunity to showcase the state and its adventure sports potential to the outside world. He expressed hope that with the participation of the four competitors from Arunachal, more people would soon come up to be a part of it.
While he could not advise the racers to drive slowly, he did request them to follow the traffic rules and regulations.
Organised by the Motorsports Club of Arunachal, the title sponsor of the championship is the state Tourism department.