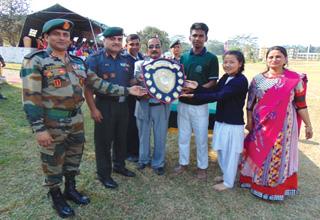 JAIRAMPUR, Dec 23: The Jairampur battalion of the Assam Rifles (AR) organised the annual sports meet of the Assam Rifles Public School (ARPS) here in Changlang district recently, under the aegis of the AR director general.
Speaking on the occasion, the battalion's commandant highlighted the achievements of sportspersons from Arunachal Pradesh and other Northeastern states in national and international events. He also encouraged the students to choose sports as a career.
The ARPS here is one of the finest and well-equipped schools in the area.
Meanwhile, the battalion on Saturday distributed science laboratory equipment, including an RO plant for water purification, to the government higher secondary school in Miao.
The school's authorities said that with the new laboratory equipment, the school has become one of the best-equipped in the area.