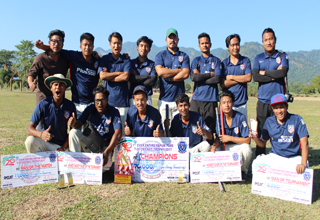 TARASO, Dec 28: Nirjuli Cricket Club on Thursday lifted the first ever Papum Pare T-20 Cricket Tournament cup, defeating Golmal XI by 7 wickets at the Nabam Rungkhi multipurpose playground here.
After winning the toss, Golmal XI decided to bat first, and scored only 84 runs before being bowled out in 17 overs.
Babulal of Golmal XI scored the highest (25) runs for his team. Manish Saha took 4 wickets, while Takar Paza, Sandeep Kumar Thakur, and Licha Tehi took 3, 2 and 1 wickets, respectively, for the winning team.
Chasing the small target, Nirjuli Cricket Club scored the required runs in just 13 overs, losing 3 wickets.
Kamsha Yangfo scored 31 for the winning team.
Manish Saha was awarded the man of the match prize.
The tournament was organized by the Nabam Rungkhi Cricket Club. Altogether 13 teams participated in it.
Earlier, Doimukh PWD Division Executive Engineer Nabam Tado appealed to the youths to maintain discipline while playing games. Former pradesh councillor of NEFA, Nabam Rungkhi, also spoke.