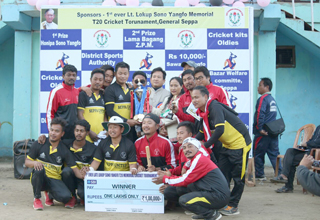 SEPPA, Dec 28: Seppa United Cricket Club (SUCC) trounced Hurricane XI by 14 runs in the final to lift the first ever Late Lokup Sono Yangfo (LLSY) T20 Memorial Cricket Tournament at the general ground here in East Kameng district on Thursday.
SUCC won the toss and elected to bat first against Hurricane XI.
With Tabom Ngomle scoring 21 of 29 balls and Judi Bagang adding another 16 of 5 balls, the SUCC batting order fell down at 96 in 18.3 overs.
Chasing a target of 97, which seemed conquerable, Hurricane XI, however, had to concede defeat despite coming close to win the match.
With Sams Alam scoring the highest run (30 of 38 balls), Hurricane XI managed to score 83 runs in 20 overs, with 9 wickets down.
During the prize distribution ceremony, Karya Bagang (Industries Parliamentary Secretary) presented the champions' trophy to SUCC, along with Rs 1 lakh, while guest of honour Khya Safar Pao, (EKSWCO Chairman) handed over the runner-up trophy to Hurricane XI, along with Rs 50,000.
The 'fair play' award went to Ane Donyi Cricket Club.
With one maiden over and four wickets in his kitty against Hurricane XI in the final, Purna Tamang of SUCC was declared man of the match, while Pradeep Kumar Rajbar (Pachuk XI), Shams Alam (Hurricane XI), Hemanta Doley (Kra Daadi Cavalier Seppa), and Kamyo Taku (Veteran XI) were adjudged man of the series, highest wicket-taker, first hat-trick, and most sixes, respectively.
Later, the East Kameng Sporting Club (EKSC) – the organiser of the tournament – submitted a memorandum to Bagang.
In its memorandum, the EKSC urged for renaming the general ground here after late Lokup Sono Yangfo.