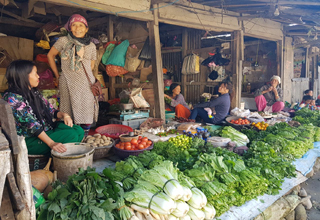 [ Nellie N Manpoong ]
The year is coming to a close and it seems that the last few days of December have been spent mostly on parties and picnics around here.
Maybe it's all an excuse to forget the terrible times of the first few months of the year; maybe the folks are hoping and praying that the next year goes well, if not better.
While it is customary to say goodbye to the year that was with a celebration of some sort, some people are bent on sitting home alone with a glass of expensive (or maybe cheap) whisky to binge-watch movies.
This activity is completely acceptable, unless one ends up crying on the sofa when the clock strikes 12.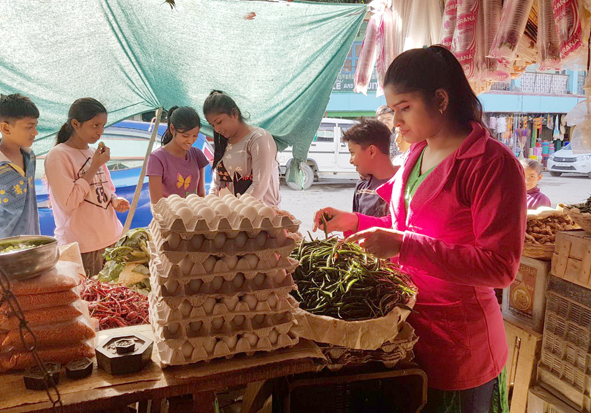 A friend, who has been grouchy this past month, says, "The holiday season is completely overrated, overbearing, and overwhelming."
Now, everyone is entitled to their feelings about the year-end and the beginning of the next, so we asked around a bit.
A group of young girls were helping out their mother and aunt in a shop in Akashdeep. An excited young woman among them said that this year was not the best for her – but she wasn't keen on sharing the reasons why. She said all she is hoping for is that her life and the year ahead will be happier than they are right now.
Even as some had a turbulent year, for some, everything remained the same, and they believe it will remain the same.
Yami, a local vegetable vendor, said she doesn't expect the new year to be any different.
"The coming year may be different for those who are better off than us, but a change in year doesn't make a difference to people like us. The prices will continue to rise, and we'll be still selling vegetables for as long as we can," she said.
Two sweepers in a shopping complex here shared similar feelings and said they are content with whatever they have right now and wouldn't want the next year to be any different – except maybe wish for their children and grandchildren to live happier lives.
While many involved in simpler jobs aren't expecting any out-of-the-ordinary changes, there are a few who wish things could be easier.
A contractual worker in a government office here said she hopes her salary will be raised to be at par with that of the regular employees in the next year.
"We do the same amount of work that the regular employees do; sometimes more, just because we are not regular employees. Apart from not getting our salaries on time, we don't even get the same amount of holidays as regular employees," she said.
The year has been like different shades of different colours for different people. People have lost those close to them to illnesses and accidents; some have had their hearts broken (or even broken a few hearts themselves); some went through long spells of depression; and some just gave up on life.
We often forget that there are better days to look forward to.
Some people got the job they always wanted, some beat cancer and survived to share their stories; some lost the ones they loved but came out stronger for those who still survive; some lonely souls fell in love and got married; those struggling to start a family adopted, and those who had almost given up on life, survived.
As we continue to fill our social media pages with photographs of happy times, let us hope that the hurt, the happiness, and everything in between of 2017 will only serve as lessons to take into 2018.
Let us count the days and live in the now, instead of placing our happiness on the passage of years.