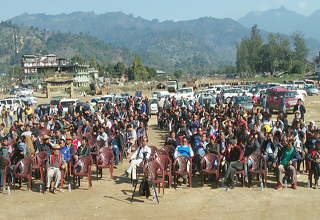 [ Karda Natam ]
DAPORIJO, Jan 8: Angry over the delay in construction of the highway (TAH) from Ziro to Daporijo, the public of Upper Subansiri district on Monday decided not to participate in any electioneering process until and unless the road is constructed.
A huge public rally was organized here on Monday to register their protest against the deplorable condition of the road from Ziro (Lower Subansiri) to Daporijo (Upper Subansiri), especially the stretch of the road from Bopi (Kamle) to Tai (West Siang).
The rally, which was spearheaded by the Tagin Cultural Society (TCS), was joined by representatives from the Galo Welfare Society, the Nyishi Elite Society, the business community, and the public.
After a marathon discussion at the airfield here, the protestors took a 'No road, no vote' decision, stating that they will not participate in any panchayat or assembly elections until the highway is constructed.
They also decided to launch a phase-wise democratic movement to draw the attention of the central as well as the state government towards their grievance.
The speakers, including senior citizens, retired officers, politicians, and businessmen like Gida Murtem, Yumpak Bage, Nyato Rigia, Tayir Bulo, and Tadam Lida, and representatives from various organizations expressed dismay over the deplorable condition of the road and extended their support to the TCS to spearhead the movement.
They expressed apprehension that Upper Subansiri may remain cut off from the rest of the state during the coming monsoon, if the road is not properly maintained.
A joint action committee, comprising representatives from different areas of the district, was formed during the meeting to lead the movement.