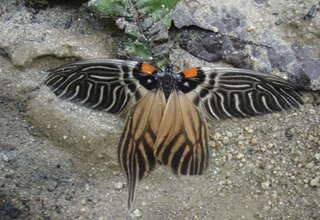 ZIRO, Jan 9: Elcysma ziroensis, a new moth species, has been discovered in Tale Wildlife Sanctuary here in Lower Subansiri district.
This moth was first photographed in 2010 by Punyo Chada, an avid nature lover and member of NGO Ngunu Ziro.
The moth was spotted and photographed for the second time during the North East India Butterfly Meet in September, 2016, in Pange, Tale Wildlife Sanctuary, by Chada and Monsoon Jyoti Gogoi from Assam (a scientist at the Bombay Natural History Society and renowned butterfly and moth expert).
The common name of the moth has been given as 'Apatani Glory' by Chada, based on the community living in the Ziro valley. This was recently published in the journal, Threatened Species.