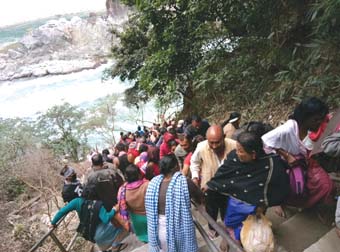 TEZU, Jan 14: Over 25,000 pilgrims and tourists from across the country and abroad visited Parshuram Kund during Makar Sankranti to take the holy dip.
This was informed by Wakro EAC D Riba, who is also the 'mela officer', reports DIPRO.
'However, the number of visiting pilgrims and tourists is expected to be higher as the figure provided was from Wakro subdivision only. The number of tourists and pilgrims from Tezu-Tohanggam route has not been reported so far,' the report said.
So far, entry of 1211 vehicles, including 229 heavy, 133 medium and 849 light vehicles, have been registered at the Wakro check gate, Riba informed.
Lohit Deputy Commissioner Karma Leki, who is camping at the kund premises, has left no stone unturned to ensure a successful and incident-free mela. He is supervising all the arrangements and activities in the kund area, said the report.
Adequate security arrangements have been put in place by deploying CRPF and IRBn jawans and civil police personnel. Volunteers from various NGOs and a school from Wakro are also assisting the authority in managing the crowd.
The Lohit NIC DIO informed that live event of the Parshuram Kund Mela is being webcast at www.lohittourism.in.
Temporary medical camps and counters have been set up by the Army, the ITBP and the civil administration.
No untoward incident has been reported so far.
Many locals and domestic tourists from nearby Assam also thronged the kund site to witness the festivity.