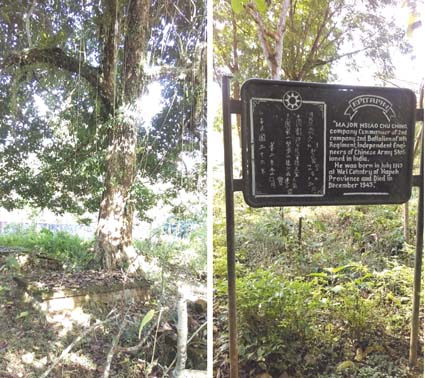 [Junroi Mamai]
During the tumultuous period of the Second World War, the allied forces of the United States, China and England jointly built the Stillwell Road, which was aimed at giving the Chinese an alternative road to the Burma Road which had been cut off by the Japanese imperial army in 1942.
Named after the United States Army General Joseph Stillwell, the road is situated near the Indo-Myanmar border, beginning at Ledo in Assam, crossing Jairampur and Nampong in Changlang district, on to Myanmar.
It was in Jairampur that thousands of Chinese, American, Indian and Kachin soldiers, engineers and unlisted workers engaged in constructing the Stillwell Road died while on duty.
Rows of thousands of graves – most of them without an epithet – reminds one of that foregone era. Sadly, today, the World War II cemetery memorial in Jairampur is languishing due to perpetual neglect by the authorities.
Inaugurated on 11 January, 2010, by the then Minister of State for Defence, MM Pallam Raju, the cemetery has been partly developed as a botanical garden. Discovered in 1997, it has the largest number of graves than any other war cemetery in the Northeast. The Department of Forest, which has been entrusted with the maintenance of the historical site, has developed it into a botanical garden with a number of different species of trees growing there. However, the condition of over a thousand graves there is gradually deteriorating – being covered in such thick foliage that it is difficult to mark out the graves that are scattered in the wide area.
The only prominent one among them is the one of a Chinese army officer whose grave has been marked with a tombstone, and a signboard alongside, which reads: 'Major Hsiao Chu Ching, Company Commander of 2nd battalion of 10th regiment, Independent Engineers of Chinese army stationed in India. He was born in July 1913 at Wei County of Hapeh province and died in December 1943.'
With the exception of this particular grave, the rest are virtually unmarked, while some are slowly crumbling down due to want of proper care by the authorities.
In 2017, the PWD finished construction of a museum at the memorial site and, according to authorities, is currently awaiting funds from the state government for it to become functional.
Unlike the well-known war cemetery in Kohima (Nagaland), the one in Jairampur mostly remained unnoticed due to the state government's failure to recognize its potential as a major tourist attraction.
This remnant of history is presently in urgent need of maintenance.