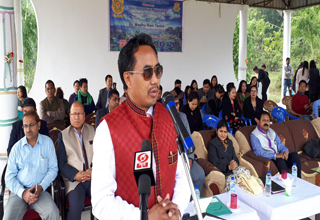 ITANAGAR, Feb 5: REILA (Recreation, Entertainment, Information & Literary Activities) – the annual festivities of the Rajiv Gandhi Government Polytechnic College (RGGP) – started here on Monday.
The programme was inaugurated by Education Minister Honchun Ngandam in the presence of Education Secretary Dr Madhu Rani Teotia.
In his address, the minister urged the institute's students to be responsible citizens of the state.
"If you work hard, no one can stop you from achieving success in life. Our students should compete with the rest of the world. For this we need to change our mentality and be ready to accept any kind of challenges," Ngandam said.
Emphasizing the importance of education, he said Arunachal has witnessed tremendous change in the last 30 years because of improvement in the education system. He asked the RGGP to set an example for other polytechnics to follow.
Responding to a memorandum submitted by the Students' Union of RGGP, the minister assured to look into it, and directed the education secretary to initiate the process to meet some of the demands in the memorandum.
The demands include upgrading of the RGGP to a degree college; a separate library building and an indoor stadium; modern teaching aids; a guest house for visiting faculties; and repair and maintenance of the institute's boundary wall.
Dr Teotia in her address assured full cooperation from her side for the betterment of the institute, adding that everyone in her department would work together to make the institute better.
Earlier, RGGP Principal Dr AK Tripathy dwelt on the history of the institute, its achievements, and the challenges confronting it. He also said that students would have to look beyond Arunachal for job avenues.
"Some of the top private companies come to our institute for campus placement. Unfortunately, many of the students who were selected came back to Arunachal, leaving their jobs midway. This kind of situation jeopardizes our efforts," said Dr Tripathy.
He informed that the RGGP is making sincere efforts to get accreditation from the National Board of Accreditation in order to improve the quality of the institute.
The institute's Proctor, Ayem Pertin Taba also spoke.
There was a dance performance in which students represented various tribes of Arunachal. The celebration will witness cultural, sports and literary activities. It will conclude on 7 February.