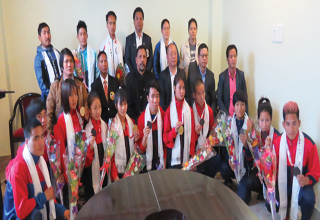 'Karate put Arunachal in country's sports map'
ITANAGAR, Feb 7: Arunachal Pradesh bagged two gold, three silver and eight bronze medals in the National Karate Championship for Cadet, Junior and U-21 age categories conducted by Karate Association of India (KAI) at New Delhi from January 30 to February 2.
Yana Bagang and Kyabo Liyang bagged the gold medals in girls below 40kg and boys below 50kg Kumite.
Yalam Maying (+54kg) and Bumi Nuk (-48kg) won a silver medal each in girls (Cadet) and Junior Girls category in Kumite. Samem Romat won the third silver medal in boys (Cadet) below 70kg category Kumite.
The bronze medalists were Yanung Gamnu, Lodar Tong, Tadam Doyom, Doni Yangfo, Sipi Paffa, Menam Tekseng, Mojum Dodum and Raja Yangfo.
Rakesh Gamno was the chief Team Coach.
Meanwhile, Arunachal Karate Do Association (AKA) on Wednesday felicitated all the medal winners of the championship, and also those, who won medals in the KAI Senior National Karate Championship, which was held at Kolkata last month.
Attending the programme, Joint Secretary of Sports and Youth Affairs Mige Kamki said that Karate was the sport, which put Arunachal Pradesh first in the country's sports map.
Explaining the usefulness of Karate in our day-to-day life, he said practicing Karate is the best option to stay physically fit, healthy and mentally sound in absence of other facilities like swimming pool, tennis courts etc. in the state, which the physicians often recommend.
Stating that medals come only after hard work, dedication and sacrifice, Kamki urged people to recognize the achievements of the winners.
"There had been a misconception about Karate in the earlier days," Kamki said and added that the sport (Karate) has now been recognized by International Olympic Committee (IOC) and included in 2020 Tokyo Olympics.
When Kamki was informed that gold medalist Kyabo Liyang suffered grievous abdominal injury during the championship, he advised AKA President Likha Tara to approach the Government for financial assistance for the medical treatment of the injured player.
He prayed for early recovery of the player.
Earlier, Tara informed that Kyabo suffered serious injury during his semifinal bout, but went on to play the final and won the gold medal. However, his injury got aggravated thereafter and was admitted in a hospital in Delhi, Tara said. He had to undergo emergency surgery after scans showed bleeding in his 'small intestine'.
As per doctor, Tara said, he will have to undergo another major surgery, which, according to doctors, will cost not less than Rs.5 lakh.
Tara expressed gratefulness to KAI Secretary General Bharat Sharma for immediately arranging Rs.2.5 lakh on request for the surgery.
Meanwhile, Tara said that the boys and girls have performed exceptionally well in the championship. He asked the players to get ready and practice hard for the ensuing National Games to be held in Goa.
AKA General Secretary Bulang Marik gave details of the championship.
AKA Technical Director Shihan S Deben Sharma, Vice President Dr. Marli Ete and Treasurer Tai Hipik were present, among others.