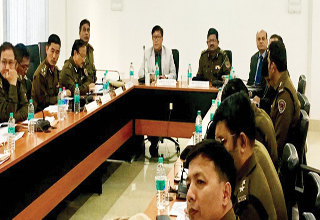 State's security scenario discussed
ITANAGAR, Feb 9: The security scenario in the state was reviewed during the annual conference of SPs and police battalion COs at the police headquarters here on Friday.
Attending the conference, Home Minister Kumar Waii exhorted the SPs to strengthening the police-public relations in the state.
Lauding the police personnel for effectively maintaining law and order and successfully investigation some very important cases in the state, he gave assurance that he would solve the infrastructure problems in the Police department.
DGP Sandeep Goel gave details of the law and order scenario in the state. He enumerated some of the outstanding activities carried out by the police, such as drug control, counter insurgency, rescue and relief measures, community policing initiatives, and sports activities.
Home Commissioner GS Meena stressed on capacity building, training and accountability of police personnel.
IGP Sunil Garg also spoke.
The SPs and battalion COs spoke about various issues and challenges faced by them in maintaining law and order in the state.