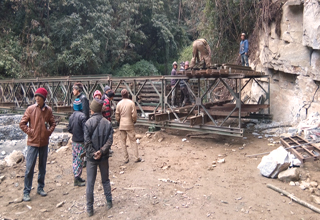 TAKSING, Feb 12: The Border Roads Organization (BRO) has opened another bridge on the strategically important Tama Chung Chung-Taksing road here in Upper Subansiri district.
'The Bailey bridge over the Dadu Siko river was opened for traffic on 1 February. The road will now be open even during the monsoon season, which lasts for about six to eight months in this region,' stated a release from the BRTF.
The 128 RCC under the 23 BRTF's Project Arunank undertook the task of laying the bridge.