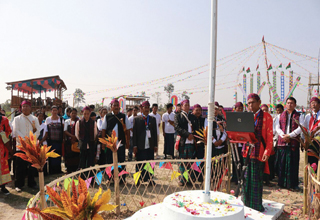 [ Indrajit Tingwa ]
NAMSAI, Feb 12: The 34th edition of the Singpho ethno-cultural festival, Shapawng Yawng Manau Poi began here on Monday.
The festival is celebrated in commemoration of the progenitor of the tribe, Shapawng Yawng. This is the first time that it is being celebrated in Namsai headquarters.
Singpho chief Duwa Ningroo Jawja Miao, who unfurled the Singpho national flag at the festival ground, urged the younger generation to carry forward the rich cultural heritage of the tribe.
He underscored the need to keep away from drug abuse, and to strive in the field of education.
Miao is a descendant of Ningroola, the first tea grower of India.
After singing of the festival song, 34 gunshots were fired as a tribute to the progenitor, and to mark the beginning of the festival. A community dance around the ceremonial pillars, manau shadung, was also performed.
Singpho delegates from various parts of Arunachal Pradesh and Assam, along with foreign delegates have arrived for the celebration, which will conclude on Thursday.