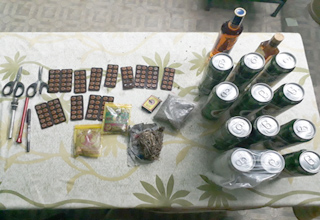 Staff Reporter
ITANAGAR, Feb 17: The police here arrested two youths and detained nine others from Indira Gandhi Park, and seized a sizeable amount of psychotropic substances from their possession on Saturday evening.
On receiving information about the youths using drugs, ganja and alcohol inside the park, a police team under the supervision of the Capital SP, led by SDPO Kamdam Sikom, and assisted by SI Giogi Tape, RK Jha and a CRPF team raided the location and caught the youths with 136 tablets of Nnitrazepam/Nitrosun 10, four packs of ganja, and several cans and bottles of beer and hard liquor.
A case has been registered in this regard at the Itanagar police station.