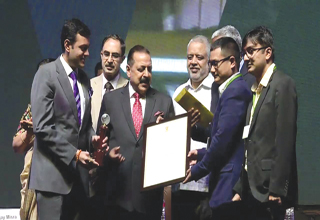 ITANAGAR, Feb 27: The office of the Deputy Commissioner, Itanagar-Capital Complex was awarded gold medal for e-office for the best district level initiative to go paperless.
The award was presented in the 21st National Conference on e-Governance at Hyderabad International Convention Center.
The team of officers, who received the award, included Deputy Commissioner Prince Dhawan, EAC Liken Koyu, DIO Tarni Kumar, Scientist-B (NIC) Sanjiv Kumar Das, Programmer, NIC Deepak Bhardwaj and UDC Rubu Rajen.
E-Office provides an effective monitoring mechanism to monitor the performance of individuals, pendency of files, clearance of files, files worked on, etc. on finger tips, which was not available earlier.
Prior to the adoption of e-office, departments and sections submitted their own reports, which could not be cross-verified. The digital monitoring mechanism of e-office has increased the accountability and responsibility of staff at all levels and brought about a positive change in the administrative system.
The implementation of e-office has brought various benefits to the office some of which are transparency and accountability, quick disposal of files, instant file exchange, knowledge repository, simplification and standardization of government processes and procedures, elimination of unproductive/ non-value-adding work, and reduction in paperwork has been other advantage of e-office.