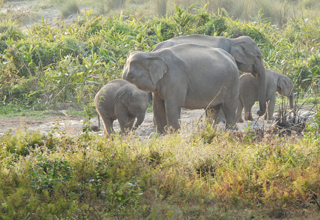 [ Tongam Rina ]
The Pakke Tiger Reserve is a rehabilitation home for many animals that have been orphaned because of poaching.
One of them is a month-old elephant calf who was found with a herd of cows in Mebo of East Siang district that was repatriated by the Forest department for rehabilitation.
"The mother was probably poached", Tana Tapi, the DFO who was helping feed the hungry calf, said. "I am hopeful, the calf will be able to go back to the wild", he said.
A few meters away is the centre for bear rehabilitation and conservation. Currently, two bear cubs from Karbi Anglong are being looked after. The mother was poached.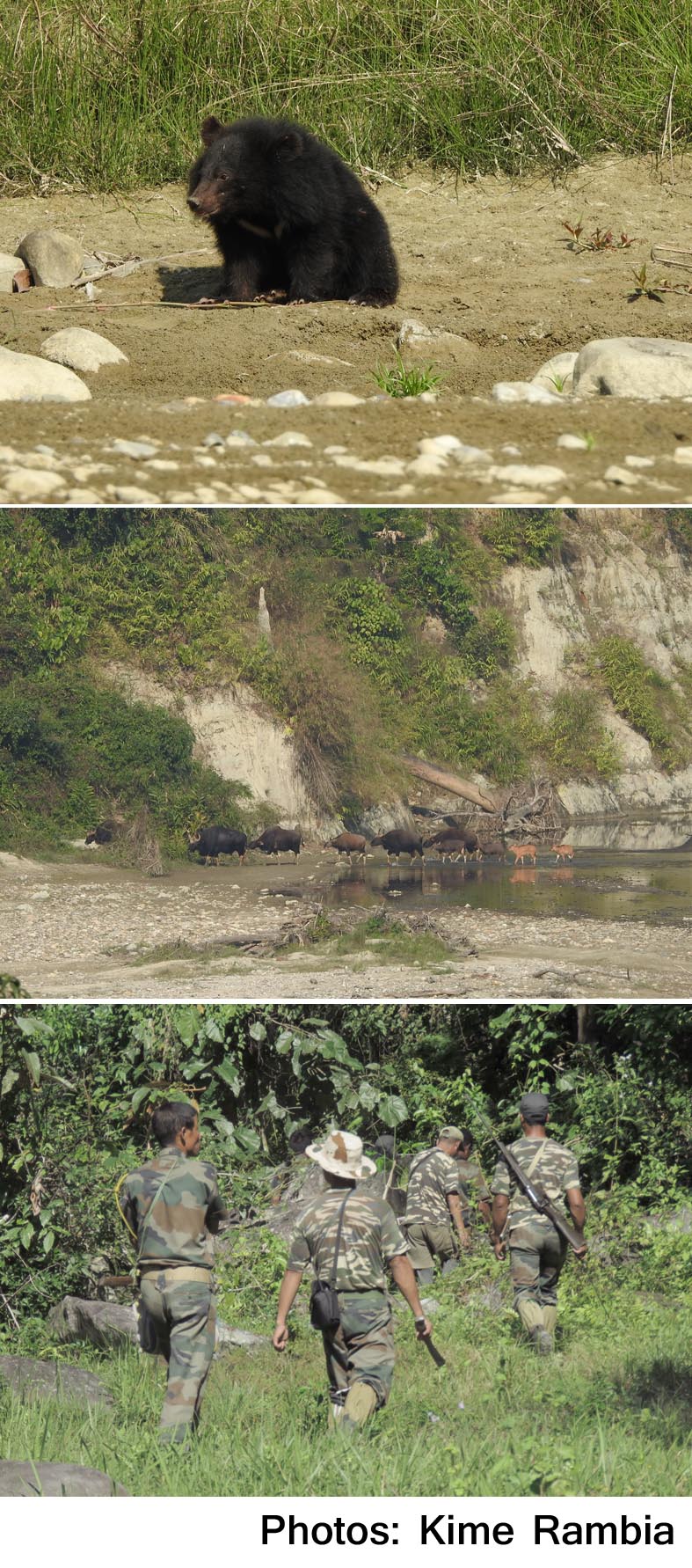 "If a hunter has a little bit of heart, they don't abandon the cubs", the DFO said.
The lunch was a somber affair.
Soon we left for the Khari Forest camp in the deep forest, some two hours from Seijosa.
We saw quite a few animals and birds, but my mind was stuck to the elephant calf and the bears, wondering whether they will ever go back to the wild or end up at the periphery of the forest, dependent on humans for their survival.
It was dark in Khari when we met Gonesh, an elephant handler.
His wife was killed by a wild elephant only a fortnight ago.
I regretted going to Pakke; not prepared for multiple heartbreaks.
As we sat in silence trying to come up with the appropriate words of consolation, which was an impossible task, someone shared a story about a near-death experience.
Two young men from the Special Tiger Protection Force (STPF) were out patrolling on their bikes when they ran into an angry elephant.
"I can't recall when and how we abandoned the bike and climbed onto a tree", he said.
The two men were up in the tree for more than three hours as the elephant refused to budge after destroying the bike and everything in sight.
"Hum apna dost ko phone kiya humko bachane ke liye. Phone cut gaya. Tab ek phone aya. Number check karne ka samai nahi tha. Hum phir se bola dost, humko bachoa".
On the other end of the phone was Tana Tapi who was in Itanagar on an official work, who later sent a rescue team.
There are many more such stories, said wild life biologist Nandini Velho, who has been coming to Pakke since she was in college.
The next morning, as we sat down for an early morning breakfast in a beautiful hut overlooking Khari river, someone shouted "Tapi sir ka bacha log ja raha hain"!
Barely hundred meters away, we saw 16 Indian bisons. A herd of nine elephants and a sambar deer followed, at almost the same spot within a short span of time.
But it was time to go to a lake with a stopover at a place where bears were being trained to get back to the wild (Three nine-month-old bears). Neelmani Rabha, the field biologist was hopeful that the bears would be able to fend for themselves.
Later, Neelmani invited us to his unique home- a swinging tree house -some 15 metres above the ground!
On that scary swinging tree house, we had Pakke tea- a strange mix of salt, sugar and tea leafs. Not the most comfortable 15 minutes of my life!
The swinging tree house is home to the bear handlers and the field biologists who have spent months together in the forest.
What do these keepers of Pakke do when they have time?
Nandini writes, Neelmani paints, while most of the STPF boys make bamboo and cane furniture and indulge in photography.
STPF Paro Natung and Chandan Patro are film makers, trained in 'Green Hub'. You can watch their film "Protecting Paradise" on YouTube. Now, they are assisting Ram, in making "Pakke in Macro".
Range Officer Kime Rambia and Nandini say that when they saw Paro and Chandan innovate by fixing the camera into their binoculars, they decided to help them explore filmmaking.
Sanjay Tisso, another STPF personnel is a budding painter who has left his mark everywhere in the park. The walls of antipoaching camps are filled with his paintings.
One painting of an animal stood out. "That's a tiger that looks like a leopard", the chatter box said.
But there is barely free time for anyone as they have to patrol the park, rain or sun. On one occasion, we visited a natural salt lake for the elephants. With fresh droppings everywhere, there was sure to be an elephant nearby and that's when I heard a thud.
It was so loud that I froze which made the STPF personnel laugh.
"That's an otenga (elephant apple) falling", he said.
Ten minutes later as we boarded the jeep for another rough ride, we heard a loud trumpet forcing the jeep to come to a screeching halt.
We were face-to-face with an elephant. While I looked at the amazingly good-looking but an upset elephant, the team was ready with crackers and guns to scare it away.
For a few seconds (which seemed like a million year), humans in the jeep and the elephant, were waiting – trying to figure out who will make the next move.
As the elephant stood his ground, we drove away.
"We intruded", Tana Tapi said.