Staff Reporter
ITANAGAR, Mar 16: Union Minister of State for Home Affairs Kiren Rijiju on Friday informed that 18 border villages in Arunachal Pradesh have been selected for development as model village by the department of border management under Home Ministry.
"Under the package, MoS Home said Singbir Village of West Siang and Gelling Village of Upper Siang were adopted as special model villages sanctioning total amount of Rs 23.14 crore under Border Area Development Programe (BADP) scheme.
Sixteen more villages of border area from different districts have been selected for development of model village and sanctioned Rs 2 crore each as initial stage (see box). Rijiju however made it clear that normal BADP will be continued as earlier, stating that the package is different from normal BADP funding.
Terming the package as historic economic package from the Home Ministry, Rijiju said that so many things have been done for Arunachal Pradesh by the Home Ministry.
The package will primarily focused on improvement of sector like health, education, connectivity, skill development, water, electricity, infrastructure etc.
Acknowledging Vivekananda Kendra Vidhyalayas' contribution in the field of education, the Home Ministry has sanctioned Rs 80 crore for up-gradation and establishing new VKV in Arunachal Pradesh.
An amount of Rs 60 crore has been sanctioned for establishment of new VKVs at Anini, Lazu, Nafra and Mukto while Rs 20 crore sanctioned to upgrade the existing VKVs at Amliang(Anjaw) Niusa(Longding), Koloriang(Kurung Kumey) and Chayangtajo(East Kameng), added Rijiju.
Rijiju also announced that for better management of Indo-China border, the Frontier Headquarter of ITBP will now be shifted from Shillong to Itanagar. He said that the Sector Headquarter of ITBP will be established at Likabali and the Battalion Headquarter will be now retained at Basar instead of shifting to Dibrugarh as decided earlier.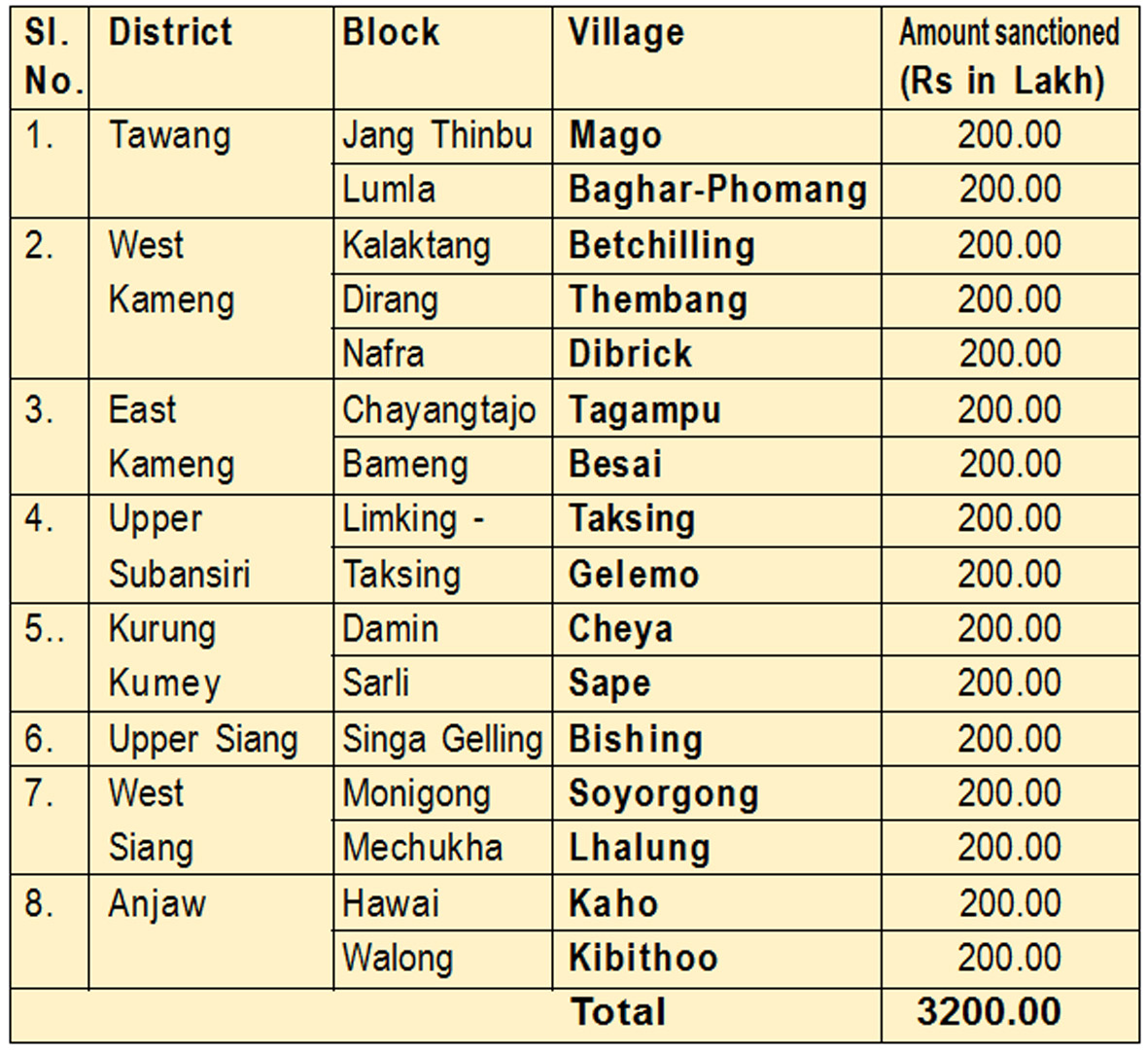 Arunachal Pradesh will now have an NDRF Battalion, the country's premier disaster response force, the Headquarter of which will be established at Hollongi, Itanagar for Rs. 153 crore. The state will also get two IR Battalions of its own.
Rijiju also mentioned that for strengthening of Police Infrastructure in Tirap, Changlang and Longding(TCL) Districts, a revised project cost of Rs 212.85 crore has been sanctioned.
He also informed that Two Indian Reserve Battalions for Arunachal Pradesh has been approved and sanction order has been issued. With the raise of two IRBN battalions, the shortage of IRBN would be mitigated, Rijiju hoped.
Tourism Parliamentary Secretary, Pasang Dorjee Sona and Chief Secretary, Satya Gopal were also present at the press meet. ( With inputs from IPR)