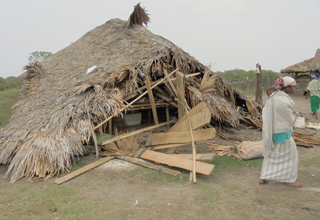 [ Prafulla Kaman ]
RUKSIN, Mar 30: A man was killed by a wild elephant in Upper Jampani (Selek Bungkeng) in East Siang district on Thursday night.
The man, identified as Durga Bahadur Chetry (55), was killed by the elephant while he and his family were taking meal at his wooden farmhouse, around 8.30 pm. The other members of the family managed to escape.
The wild elephant destroyed eight farmhouses and three cattle sheds.
The elephant, which got separated from the herd, is reportedly roaming around near human habitation near Daying Ering Wildlife Sanctuary, creating panic among the people.
According to reports, the elephant had killed a woman and a young boy last year and damaged several houses in Upper Jampani (Kemimukh) area.
Jampani area is located 15 km east of Ruksin gate, and more than 100 families, the majority of whom are farmers, are settled in the area.
More than 30 families have set up cattle farms in the Selek Bungkeng portion of Jampani, adjacent to the sanctuary.
There is an elephant corridor from Daying Ering Wildlife Sanctuary to Dibru Saikhuwa National Park across the Brahmaputra river and the Poba reserve forest in Assam.
According to forest officials here, a herd of elephants come from Dibru Saikhuwa National Park, crossing the Brahmaputra through the lower (Assam) portion of the Poba reserve forest, and enter areas of human habitation in search of food.
Every year, wild elephants damage standing crops in the fringe villages of the Poba reserve forest on the Assam-Arunachal boundary.
Meanwhile, a team of Arunachal Pradesh Police and wildlife officials visited the spot and took stock of the destruction caused by wild elephants.
The body of the deceased has been handed over to his family after postmortem was conducted on it.