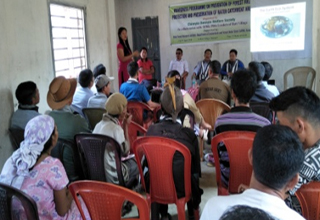 ITANAGAR, Apr 2: State Forest Research Institute (SFRI) Director, Dusu Shra urged the community members of Batt village near here to refrain from setting fire to forests, saying it amounted to setting fire to their own properties.
Shra explained the impact of forest fires and deforestation on the environment, the flora and fauna, and the water holding capacity of the soil, during an awareness meeting on 'prevention of forest fires and conservation of water catchment areas' at the village on Monday.
Shra, who is also the chief conservator of forests, appealed to the community leaders and village elders present at the meeting to join the efforts for conserving forests and preventing forest fires.
Scientist RK Taj elaborated the impact of forest fires, jhum cultivation and earth-cutting activities on the soil, water and air.
He said the main causes of drinking water scarcity, loss of biodiversity, and stream and river pollution in and around the capital complex are forest fires, deforestation, earth cutting, and expansion of human settlement areas.
He appealed to the panchayat leaders, GBs, youths and the public to conserve and protect water catchment areas of their respective areas by not throwing plastic bottles and waste materials in the streams and rivers.
The awareness meeting, held under the state CAMPA, was organized by the SFRI in association with the Chinnyia Donnyia Welfare Society and the Batt gram panchayat.
Senior forest officers, gram panchayat members, GBs and village elders participated in it.