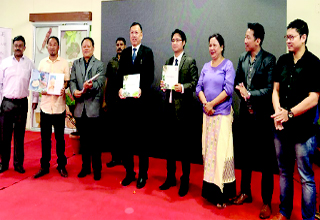 ITANAGAR, Apr 7: From the everyday to the exotic, the cuisine of a vast milieu of tribes of Arunachal Pradesh find a place in a new book called 'Aromas of Arunachal'.
Published by the tourism department, the coffee table book takes readers to a journey across the state, from Tawang in the west to Longding in the east, through the food of the people. It gives readers an opportunity to look into the lives of the indigenous people through new lenses that have never been presented before.
During the formal book launch event at the State Food Craft Institute (SFCI) at Indira Gandi Park here on Saturday.
Speaking at the launch event, Tourism Minister Jarkar Gamlin said the book would not only help tourists but also the youth, who can use the knowledge to explore avenues of employment.
The day also saw the launch of a customized tourist guidebook published by Outlook Traveller as part of its 'Getaways' series, in partnership with the state tourism department.
The guidebook features comprehensive articles about various places in the state, from the famous to the more obscure and the people who live in those places. It also provides information about the travel arrangements available in the state.
Gamlin said that the guidebook not provides useful information but will also serve as an invitation to tourists to visit Arunachal Pradesh.
Tourism Secretary Joram Beda said that the food and cuisines of Arunachal Pradesh are at par with those in other parts of the world.
"We felt that our cuisines are no less delicious than anywhere else but the problem was with presentation and documentation," Beda said.
The book, which Beda hoped would not only help create interest in the cuisine of the state but also help preserve traditional knowledge, features dishes that are favourites across the state, such as the bamboo shoot pickle to the lesser-known Khunchang-Tok, a Tangsa dish which requires hot stones as an essential part of the cooking process.
Apart from recipes, the book is also peppered with legends and tales of some of the tribes of the state, which act as a window into their cultures.
During today's event, a number of students of the SFCI were also awarded their certificates of completion of different vocational courses.
Congratulating them on the completion of their courses, the tourism minister said that they must ensure that their time is not wasted.
"I hope your training is successful and that you are able to put your training to good use," he said, adding that although there is no major industry in the state, the tourism sector offers major opportunities for growth.