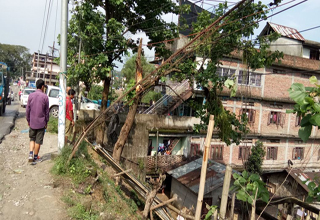 ITANAGAR, May 11: A sudden downpour on Friday afternoon has caused fault in the 132 KV Lekhi-Chimpu line; affecting the power supply to Itanagar Township and nearby areas, such as Balijan, Hollongi, Jote and Poma.
The alternative 33 KV feeder line from Lekhi to Panchali is also faulty.
The Capital Electrical Division executive engineer's office informed that the lines could not be restored entirely due to low visibility, assuring that electricity supply would be restored by Saturday evening.
some parts of Naharlagun have also been hit by power supply shortage.
The CED's office has regretted the inconvenience caused to the consumers, and requested everyone to bear with the department.