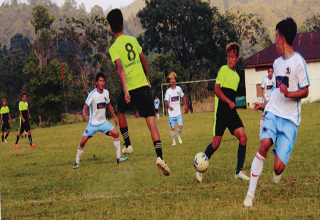 Poma, May 22: The 6th Vacation Running Trophy Football Tournament organized by Eleven Star Football Club at Poma village started on Monday.
Mengio ZPM Tarh Phassang along with Sangdupota ZPM Gollo Takam and Poma ASM Techi Anna attended the inaugural day.
The first match between YGFC and PUFC ended in a 1-1 draw. Damin Ruru and Punyo Nana scored a goal each for both the clubs.