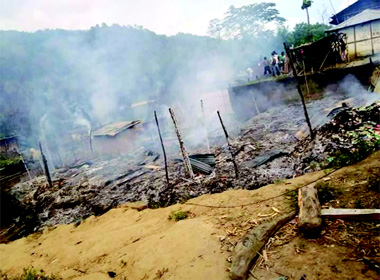 [ Karda Natam ]
DUMPORIJO, Jun 3: At least 15 houses were reduced to ashes in a fire that broke out around 6 am on Sunday at Fisheries Colony here in Upper Subansiri district.
As many as 22 families have been rendered homeless. The cause of the fire is not yet known.
The worth of the properties lost can be ascertained after official assessment is carried out.
Local MLA Paknga Bage announced Rs 6 lakhs from his local area development fund for the affected families.
He informed the chief minister about the incident and appealed for providing assistance for early rehabilitation of the affected families.
He appealed to the people of the area to extend all possible help to the affected families, and asked the district administration to inspect the site and assess the properties lost or damaged.
Former minister Takar Doni expressed deep shock and grief over the incident. He appealed to the government, the department concerned, and well-wishers to help the affected families.
CM seeks report
Chief Minister Pema Khandu has also expressed deep sorrow over the incident, and directed the Upper Subansiri district administration to provide all possible assistance to the victims.
He has sought a detailed report on the losses incurred, so that adequate relief may be released by the state government.
The CM urged NGOs and the public of the district to assist the victims in this time of distress.
He appealed to the people to be alert to avoid such unfortunate incidents, and asked the district administration to impart precautionary training to the denizens. (With CMO input)