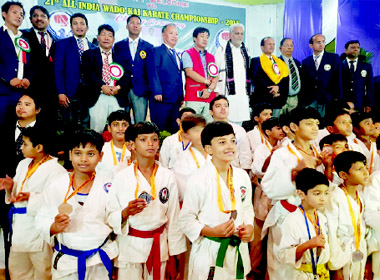 ITANAGAR, Jun 3: Union Minister of State for Panchayati Raj Purshottom Rupala has said he will take all necessary initiatives to establish a multipurpose indoor karate stadium in Itanagar, informed Arunachal Wado-Kai Karate Do Association president Yarda Niki.
The union minister on Saturday attended the 21st All India Wado Kai Karate Championship, which concluded here on Sunday.
"I will take up the matter with the ministry concerned for its early materialization," Niki quoted the minister as saying.
Niki said Rapala suggested to the organizing committee to find a suitable plot of land for establishing the indoor stadium.
Speaking about the importance of discipline and its value in life, the minister advised the participants to maintain discipline in order to succeed. He appealed to parents and guardians to encourage their children in games and sports.
Earlier, MLA Dikto Yekar apprised the MoS of the need for a multipurpose stadium in Itanagar.
AIWKA chairman Rajesh Agrawal, its technical director Arvind Rana, general secretary Prof PS Choondawat, Karate Association of India (KAI) vice president Likha Tara, Kai Referee Commission joint commissioner Shihan Premjit Sen, AKA general secretary Bulang Marik, vice president Dr Marli Ete, treasurer Tai Hipik, and event organizing secretary Rakom Dugi attended the event.