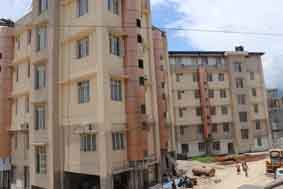 NAHARLAGUN, Jun 7: The dream of establishing the Tomo Riba Institute of Health & Medical Sciences (TRIHMS) is coming true and the institute will start functioning from the coming academic session onwards, said Health Minister Alo Libang during a visit to the TRIHMS campus here on Thursday.
Libang, along with officials of his department and the TRIHMS inspected the ongoing work at the institute and reviewed its progress.
The team inspected the infrastructure, including the completed and ongoing assets, which is being established to meet the requirement of the Medical Council of India's guidelines.
Interacting with the officials, Libang gathered information about the progress of work, so as to ensure that the infrastructure is ready by August 2018, when the college is expected to start functioning.
He directed the TRIHMS officials to regularly update the state government on the progress of work.
TRIHMS Director Dr Moji Jini informed the minister that almost all the requirements to start the medical college are nearing completion.
"The library has received more than 1700 books, four dead bodies have already arrived, freezers have been installed, the mortuary is nearing completion, the administrative block for the 1st year is completed, the faculty problem is also being resolved, and the remaining few concerns are being taken care of," said Dr Jini.
Interacting with the faculty members in the Administrative Block-II building, Libang promised his full support for the medical college, and requested the faculty members to guide the department and himself about the technical works that needs to be carried out.
Libang said he was satisfied with the progress of work undertaken by the construction company (M/s Kenge Construction), and expressed hope that the same tempo would be maintained, so that the work is completed on time.
He also held discussions with the proprietor of Kenge Construction, Ha Tatu.
Tatu assured the minister that the quality of work would not be compromised with at any cost.