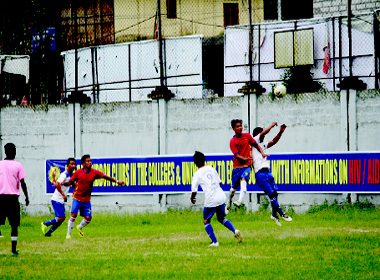 Miichi Utd, Sports Generation complete semis line-up
NAHARLAGUN, Jun 11: Miichi United and Sports Generation won their respective quarterfinal matches in the Capital Complex Dree Football Tournament to join Hello FC and Nyime Yaru in the last four.
Miichi United defeated Senior Hello FC 2-1 in the third quarterfinal with a goal each from Koj Talley and Koj Tajang.
Talley was adjudged man of the match.
Radhe Tallo scored the lone goal for Senior Hello FC.
In the fourth quarterfinal, Sports Generation defeated Naharlagun Arrows by a tennis-like 6-1 score.
Ligang Bungo alone netted four goals for Sports Generation. Deservingly, he was later declared man of the match. The other scorers were Tage Tachang and Mihin Taker.
Nending Methew scored the consolation goal for Naharlagun Arrows.
Miichi United FC will take on Hello FC in the first semifinal on Tuesday at 1:30 pm. The second semifinal will be played between Sports Generation and Nyime Yaru on Wednesday.
In a senior category match played on the same day, Khonkhung FC defeated Paatw FC 2-0.
Habung Tapa, who scored both the goals, was declared man of the match.