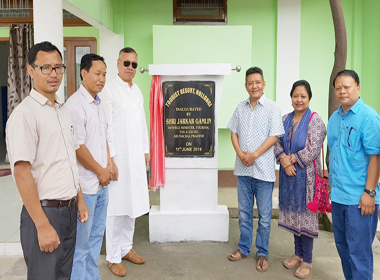 HOLLONGI, Jun 11: Tourism Minister Jarkar Gamlin inaugurated the tourism department's resort here on Monday.
Papum Pare District Tourism Officer Tater Mize informed that the resort was completed way back in 2011 but was in a dilapidated condition.
"After taking it over from the RWD, the department of tourism renovated it to serve the tourists," he informed.
Gamlin hailed the tourism department for reviving the resort.
"The opening of the resort will provide facilities to the tourists coming to Itanagar via Hollongi. The staff of the resort should know the importance of hospitality and offer best service to the tourists," he said.
He appealed to the locals to cooperate in promotion of tourism activities and make tourism a source of sustainable income.
"Hollongi area has immense potential to attract tourists," the minister added.
Tourism Parliamentary Secretary PD Sona, Tourism Secretary Sadhana Deori and Tourism Director Kanto Danggen, along with officials of the department and gaon burahs of Hollongi area were also present at the inauguration.
Earlier, the minister along with tourism officials participated in a tree plantation programme in the compound of the resort.