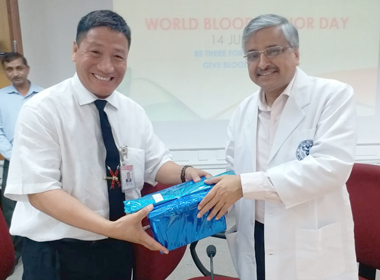 NEW DELHI, Jun 17: The All India Institute of Medical Sciences (AIIMS) here honoured NGO Helping Hands on the occasion of World Blood Donor Day on Friday for the NGO's services in massive mobilization activities for blood donation (NE blood bank). Four other NGOs of Delhi were also honoured on the same occasion.
AIIMS Director Dr Randeep Guleria along with HoDS of the institute felicitated NGOs Helping Hands, Blood Connect, Bharat ke Mitra, Satya Sai Baba Seva Samaj, and Sant Nirankar Mandal.
On behalf of Helping Hands, its vice president Dr Sangeeta Chanu, volunteer Rebecca Rai, and founder and Joint Commissioner of Police Robin Hibu received the honour.
HoD of the AIIMS blood bank unit, Dr Poonam Coshic informed that no patient from the North East would die due to want of blood as the NE blood bank has a huge stock of blood donated by donors from the region.
Dr Coshic also informed that on request of the NGO, the NE blood bank will now provide blood even without donor's card, on receiving an SMS or a WhatsApp message from Helping Hands.
"I am extremely happy to inform that NE students, even those who travel through Delhi, are now donating blood for the NE blood bank. Apart from NE donors, mainland donors are also donating blood for our NE blood bank," she informed.
Hibu expressed gratitude to the AIIMS' director, HoDs, doctors and staff on behalf of the NE people for giving an opportunity to start the NE blood bank, which is exempt from preservation fee. Most private hospitals in Delhi charge approximately Rs 2, 40,000 per month for blood preservation.
On 23 June, Naga students in Delhi, along with Helping Hands will organise a massive blood donation camp at the AIIMS.
Donors can drop in on the ground floor of the AIIMS blood bank ward through Gates 1 and 2, between 9 am and 4 pm, from Monday to Friday.
They can meet Anju, who is in-charge of the blood donation centre, or Dr Coshic.
To avail assistance from the NGO, one can SMS or send a WhatsApp message to 9810083486 (only for poor and emergency patients).