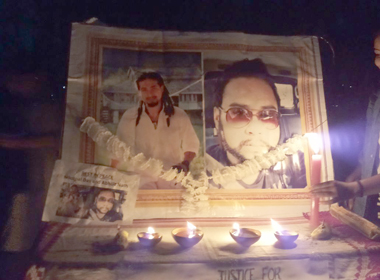 Staff Reporter
ITANAGAR, Jun 17: A candlelight vigil was held at Indira Gandhi Park here on Sunday evening to extend solidarity to the families of the two Assamese youths who were lynched by a mob in Dokmoka in West Karbi Anglong district of Assam on 8 June.
The event was organised by the All Kristi Kendras of Itanagar, Capital Complex, and the All Capital Complex Assamese Youth Welfare Association. Members of the All Arunachal Pradesh Gorkha Youth Welfare Association and the All Bengali Welfare Federation, along with the public of the capital complex also extended their support.
The organisations jointly appealed to the Assam government to fast-track the case, and also sought a law against mob lynching.
"If there is any suspicion on a person, people should report them to the police instead of taking the laws into their own hands," the organisations said.
They urged people to be aware of circulation of fake news on the social media, and expressed hope that innocent lives do not become victims of online rumours.