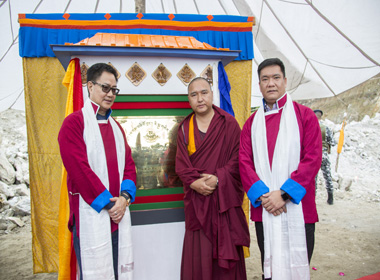 TAWANG, Jun 25: Chief Minister Pema Khandu laid the foundation stone for the Phadampa Phodrang here at Lhou village on Monday
The Phodrang, or the temple in Monpa dialect, is dedicated to 10th century Buddhist Monk from South India -Phadampa Sangye- who had travelled to Tibet through Lhou village.
The chief minister said that the temple will be constructed to mark the visit of Buddhist Saint Phadampa to Mon area and preserve his teachings. The temple will also house the statue of Saint Phadampa, which will be a six feet gold coated copper statue prepared by Dr Dr Rikya Lhavoe Rinpoche.
Further, a book authored by Dr Rinpoche 'Advice on repaying the kindness of parents' was released by MoS Home Affairs Kiren Rijiju.
Later, the chief minister and the dignitaries visited the rock where the Buddhist Saint has his knee imprinted on a rock.
Earlier, the chief minister inaugurated the steel bridge over Jangda stream and also laid the foundation stone of infrastructure development at Lhou.
RWD Parliamentary Secretary Jambey Tashi and Tawang MLA Tsering Tashi also joined the CM.