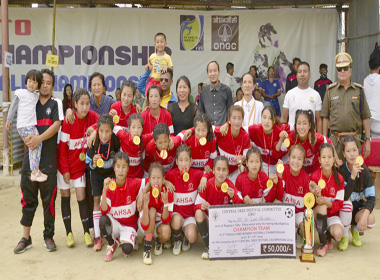 ZIRO, Jun 25: Defending champion All Hija Sports Association (AHSA) won the 2nd Dree Women Football Championship defeating Diibo Sports Club (DSC) 4-0 in the final at the Dani Kunia Government Higher Secondary School playground, here on Monday.
The winners were awarded cash prize of Rs 50,000 along with the Champions trophy. Runners' up DSC was given cash prize of Rs 20,000 and a trophy, informed Central Dree Festival Committee, Ziro, the organizer of the tournament.
The fair play team award went to the Sojang Lapang Sports Club.
Most of the individual prizes went to the AHSA team.
While the award for the best player of the tournament went to Kago Assung, Tallo Riya was adjudged as the best defender. Dani Yalu became the highest and fastest goal scorer of the tournament.
Taku Yami and Taru Kani received the awards for the best goal scorer and best team coach.
Kuru Ripa of Laji Bogia Sporting Club and Millo Delyang of Sojang Lapang Sport Club were adjudged as the best goalkeeper and best team manager respectively.
General Secretary of the Apatani Women Association Ziro Dr Millo Kunya and other dignitaries gave away the prizes and trophies to the winners, runners-up and individual achievers.
The men's final match of the 51st Dree Football Championship 2018 will be played between defending champion Sojang Lapang Sports Club and All Hija Sports Association at Dani Kunia GHSS here on 27 June, informed the organizing committee.