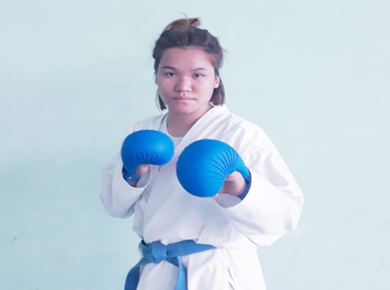 [ M Doley ]
ITANAGAR, Jun 26: Karate player, Johny Mangkhiya has created history by becoming the first sportsperson from the state to be selected to represent the country at the Asian Games.
The Karate Association of India (KAI) on Tuesday selected Johny for the ensuing Asian Games to be held in Indonesia after a three-tier selection process.
She will represent the country in women's individual kumite in below 68 kg category in the Games.
The final selection trial was conducted in Bhopal, Madhya Pradesh on Tuesday, where she defeated three other contenders in her weight category from Orissa, Bihar and Delhi.
Prior to this, Johny had undergone one month advance training at Iran, along with her three compatriots.
She has many national and international medals, including two senior national and one Commonwealth gold, to her credit.
She also had won three silver medals in KAI senior national karate championship besides a couple of bronze medals. She won a gold medal in the 8th Commonwealth Karate Championship, which was held in Delhi in 2016. She represented the country in the 23rd Senior World Karate Championship, and 12th AKF Senior Championship, which were held in Austria in 2016 and Dubai, United Arab Emirates in 2013.
She is the daughter of Nira Mangkhiya and Mazen Mangkhiya of Seppa in East Kameng district.
Meanwhile, the Arunachal Karate Association (AKA), headed by its president Shihan Likha Tara has expressed their joy and immense happiness on Mangkhiya's selection in the Indian team.
"One of my long-felt dreams has been fulfilled," Tara reacted after Manghiya's selection.
The AKA president, who has been nurturing a dream to produce an Olympian, exuded confidence that she will perform up the expectation in the ensuing Games and bring laurels to the state and the country by winning medal.
"For the first in the sports history of Arunachal Pradesh, a sportsperson from the state has been selected to represent the country in the Asian Games. It is a proud moment indeed for the people of the entire state," said AKA general secretary Bulang Marik.
He said that credit must be given to AKA technical Director S Deben Sarma for her success.
Arunachal Olympic Association president Padi Richo has also expressed joy and happiness after hearing the news of Manghkhiya's selection. While congratulating Mangkhiya for her great achievement, Richo appealed to the state government to provide all necessary help and assistance to the sportsperson as per the norms.
AOA Secretary General Abraham K Techi urged the young players to draw inspiration from Mangkhiya's success. He wished her all the best for the Games.