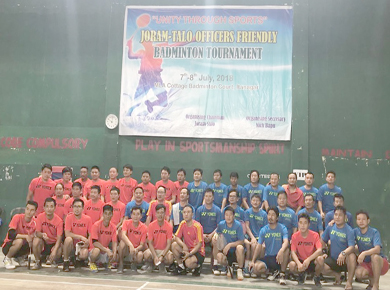 ITANAGAR, Jul 7: The first edition of the Joram-Talo Officers' Friendly Badminton Tournament got off to a flying start at the MLA Cottage badminton stadium here on Saturday.
With the theme 'Unity through sports', the two-day long tournament is being organized in an effort to strengthen the bonhomie between Joram and Talo villages under Yachuli constituency in Lower Subansiri district, organizing chairman Joram Silo informed.
"The residents of Joram and Talo have been living peacefully since time immemorial. However, we have hardly had a chance to come together for some occasion. This badminton tournament is a small effort to initiate the same and also increase the number of people taking part in community sport," organizing secretary Nich Bapu said.
Fifty-two players are participating in the competition, which will conclude on Sunday. Taniya Yasap is the tournament referee.