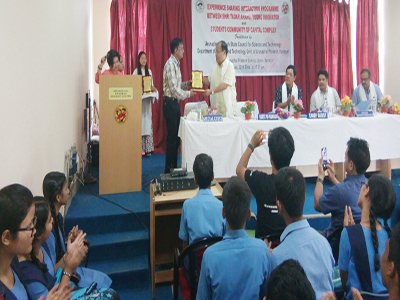 ITANAGAR, Aug 5: The Arunachal Pradesh State Council for Science & Technology (APSCS&T) felicitated young scientist Tadar Anang and regional coordinator and scientist of the National Innovation Foundation (NIF) Dr Nitin Maurya, who represented India at the 3rd BRICS Young Scientist Conclave 2018 held in Durban, South Africa, in June this year.
Addressing the felicitation function at the Science Centre in IG Park here as chief guest on Friday, APSCS&T chairman Bamang Mangha said, "Tadar should be an inspiration and example for other young children of the state."
Science & Technology Secretary Gaken Ete stressed on building a system "to convert innovation into enterprise." He advocated promoting cutting-edge technologies alongside grassroots innovations, "so that a pipeline for the future can be generated."
He described the Northeast region as "a treasure house of innovation with a wide area of indigenous knowledge system, medicinal plants, water harvesting, agriculture practice, handlooms, craft, etc," and said these systems require technology, "so that they can be turned into industrial produce for national and global markets."
APSCS&T Director CD Mungyak commended the efforts of the NIF in promoting innovation in the state, and said, "Innovation is a key factor for growth and sustainable development of the society, the state, and the country."
APSCS&T Joint Director Dr Debajit Mahanta enumerated the steps taken by the state council to promote innovation in the state.
Anang, who made a presentation, urged the student community to work hard, "as success requires continued efforts and testing, and cannot be achieved in a day."
He advised his peers to work hard and become professionals in their chosen fields.
The programme, which included an interactive session between the young innovator and students, saw the participation of about 250 students from different schools of the capital complex.
NIF scientist Dr Nitin Maurya, who was the resource person of the programme, explained the different platforms for promoting innovations in both formal and informal sectors.
Citing the Dr APJ Abdul Kalam Ignite Award, he explained how an idea can be awarded, and told of the success story of a young child who gave the idea for an adjustable walker for orthopaedically-challenged persons.
Among others, officers of the AP State Remote Sensing Application Centre, project scientist Duniyak Ado and Science Centre curator Dr Vivek Kumar attended the function.