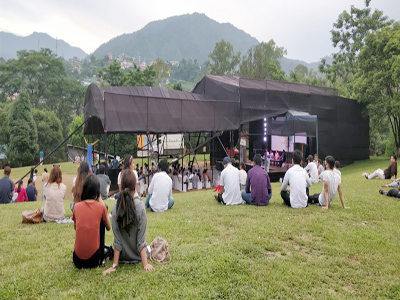 Staff Reporter
ITANAGAR, Aug 5: The panel discussion on the theme, 'Freedom of Expression – Mirage or Reality', was the highlight of the concluding day of the Arunachal Literature & Arts Festival (ALAF) at IG Park here on Sunday.
Celebrated novelist Ankush Saikia, cartoonist Jene Hai, local rapper K4 Kheko and senior journalist and Deputy Editor of The Arunachal Times Tongam Rina were among the panellists. The event was moderated by noted journalist Ranju Dodum.
Each panellist shared their experiences in expressing their thoughts and ideas through the arts and the media, and also reflected on the predicament and challenges to the freedom of expression. The panellists concluded that the freedom of expression has to be manifested in varying and distinct mediums, and that young minds should speak up on issues.
K4 Kheko spoke about people's cynicism regarding his 'Arunachalee Hindi' raps which deal openly with racism, drugs, insurgency and politics.
Similarly, Jene Hai lamented how he has been labelled by some as a pro-BJP cartoonist over the political cartoons he draws in the 'State of the State' column in the Eastern Sentinel newspaper. Rina spoke about how organizations in Arunachal Pradesh pose a serious threat to the freedom of expression by interfering with editorial discretion. Saikia dwelt on how he attempts to express the reality he observes in day-to-day life through his books of fiction.
Earlier in the day, renowned activist and former chairperson of the Arunachal Pradesh State Commission for Women, Jarjum Ete dwelt on her journey as a women's rights activist in the state. Speaking on the transformations that have taken place in districts like East Kameng and Changlang, she commended how a district like East Kameng, which has one of the lowest literacy rates among women, produced women political leaders like MLA Nyari Welly and current legislator Karya Bagang.
Ete extolled the women's rights groups in Changlang district which stood up against extortion by insurgent groups. She also dwelt on various social issues related to women, including polygamy and prostitution.
Naga artist Throngkiuba Ymchingru (Athrong) spoke on the journey of art and its social impact. He enthralled art lovers by sharing his personal experiences as an artist.