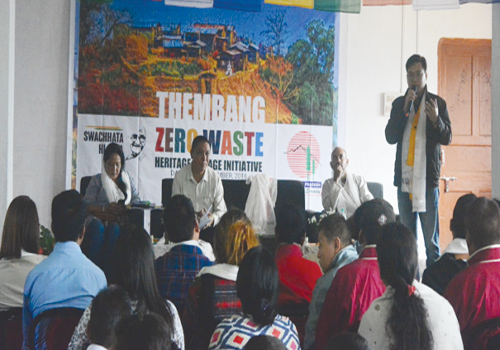 THEMBANG, Oct 1: The tourism department sought community participation in making Thembang in West Kameng district a waste-free heritage village.
The department on Sunday organized a programme here to mark the conclusion of the cleanliness fortnight.
Tourism Assistant Director Bengia Manna Sonam highlighted the initiatives taken up by the department to promote Thembang as a heritage village, and its endeavour to make it a zero-waste village with the involvement of the community members.
She exhorted the villagers to have a sense of belongingness and play an active role in keeping their surroundings clean.
Dirang ADC Toko Babu emphasized the importance of involving the community in tourism promotion. He assured the villagers of his support to the mission. The ADC also inaugurated the newly-constructed material recovery facility here.
Merwyn Coutinho, co-founder of Further and Beyond Foundation, explained the community-based waste management model which proposes to create an efficient integrated solid waste management solution for Thembang village.
Highlighting the vision for Thembang heritage village, he gave a detailed account of the role and responsibilities of the Thembang Waste Management Committee.
District Tourism Officer TW Thongdok also spoke.
A photo exhibition by Ankit Ranjan Pathak was staged in the village community hall. Dustbins (provided by the PHE department) and saplings were later distributed among the villagers.