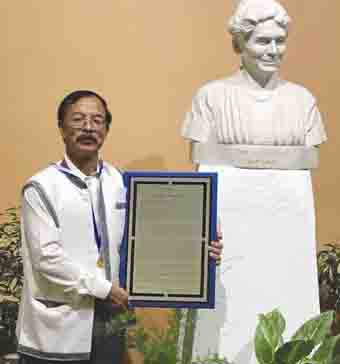 ITANAGAR, Nov 12: Renowned surgeon and Tomo Riba Institute of Health & Medical Sciences (TRIHMS) Director Dr Moji Jini has been conferred with the prestigious Paul Harrison Award by Vellore (Tamil Nadu)-based Christian Medical College (CMC).
"In recognition of his outstanding contribution to medical services to India in general and Arunachal Pradesh in particular, in the spirit of its motto, 'Not to be ministered unto, but to minister', the Christian Medical College is proud to bestow the Paul Harrison Award for 2018 upon its illustrious son Dr Moji Jini," the citation read.
The award was presented to Dr Jini on CMC's graduation day on 12 November in Vellore.
The award is given to recognize the outstanding service rendered by CMC alumni who have exemplified the motto of the institution 'Not to be ministered unto but to minister' in their career.
Dr Jini, who earned his MBBS degree from CMC, Vellore, in 1984, joined in the state's health department as surgical specialist at the district hospital in Tezu.
He served the health department in various capacities, such as registrar-cum-secretary of the Arunachal Pradesh Medical Council, director of medical education (T&R), and director of health services, before being appointed as the TRIHMS director in 2017.
A renowned surgeon, Dr Jini, who has the record of successfully performing many major and critical brain, lung, hepatobiliary and cancer surgeries, is the recipient of the Shanti Talwar Fellowship Award for the most promising paediatric surgeon of India, awarded by the Indian Association of Paediatric Surgeons during the Kolkata Conference in 1998; the Governor's Gold Medal for meritorious service to the people of Arunachal Pradesh in 2007; and the Rajiv Gandhi Manav Seva Award from the president of India for lifelong dedicated work in the service of children as paediatric surgeon of Northeast India in 2015.