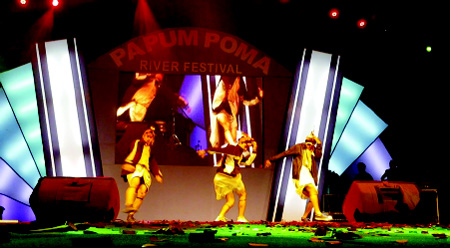 Staff Reporter
KANEBUNG, Nov 28: The first edition of the Papum Poma River Festival 2018 began here at Kanebung under Sangdupota Circle of Papum Pare district on 28 November with Bollywood singer Kailash Kher performing some of his musical hits.
Attending the festival, MoS Home Kiren Rijiju said that there is great potential for the festival to reach the international level, provided that the locals of the area extend their support.
He pressed for treasuring and protecting the natural beauty of the state, its tradition and culture, as tourists from outside the state seek those very things from Arunachal and the Northeast.
He also said that the festival could play an important role in providing the people of the capital complex to indulge in activities during weekends and that the organisers should look into that aspect as well.
He strongly advocated for being friendly with the tourists so that it does not affect the reputation of the place or its people.
Environment and Forest Minister Nabam Rebia informed that honeymoon packages would be introduced in the near future for nearby Ramghat, besides other packages for tourists.
He also assured of an all-weather road for the area to facilitate travellers.
Earlier, Rijiju also flagged off two ambulances for Papum Pare district under national ambulance service. The ambulances have been provided by ONGC, New Delhi under its CSR project.