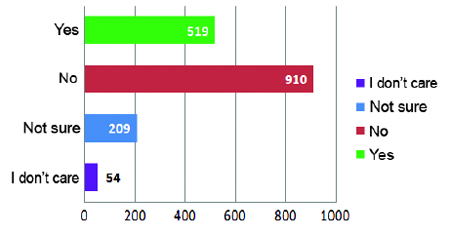 A total of 1692 readers responded to the poll. 519 expressed satisfaction with Chief Minister Pema Khandu's government, while 910 readers said they were not happy with the performance of the government. 209 readers were not sure about the performance of the government (see poll results for details).
Are you satisfied with the performance of the Pema Khandu government?
Comments from our readers
1. A drastic transformation can be seen in the entire state, whether it's transportation, smart cities, yojnas, etc. Keeping in mind the fact that the state lacks in resources, the government is implementing various schemes from the grassroots level and has initiated various central and state schemes which can be seen by laymen.
2. As a young and energetic leader, he should leap forward for exploring the young demography of the state. His tenure is marked with exponential rise of young and educated unemployed, corruption, inefficient administration, unaccountability and lack of political will to correct governance.
3. I see the government only attending festivals when they need to attend to the road conditions, top exams, unemployment. Save Arunachal.
4. Tall promises but hardly substantial transformation in the ground.
5. So much of open corruption is going on. Initially I thought unlike other CMs he was young and a visionary. But he is the same as his predecessors. The capital is dying for a good road. Many districts are yet to be connected by Trans-Arunachal Highway roads. Law and order problems are increasing day by day. Backdoor entry is still prevailing. What difference he has brought?
6. The BJP government under the leadership of young an energetic chief minister Pema Khandu is doing much better in overall development compared to the prior government.
7. The CM's post is being run by the other influential political people. His vision of a corruption-free Arunachal is still to be implemented.
8. No transparency in recruitment. Those who deserve are not getting benefits. Concentrating only on district creation. Development goes to only those districts whose ministers are powerful. No room for poor people like us. Though we are not starving, it's becoming difficult for us to survive. So in the coming election I am going for NOTA.
9. Which party can form an accountable, transparent government and system to run the society and state? Public money and fund are being utilized less for public and more for filling up individual pockets. Only file and paper works and lip service won't do greater good for the society. But we the people of Arunachal are also responsible as we are the ones who vote. Let us vote wisely and responsibly.
10. In many cases, it seems like he takes decision arbitrarily without the consent of the people of Arunachal. Also, in the recent past he was unable to tackle problems competently. In the coming election I hope we choose a leader who is competent and take decisions in the interest of the people of Arunachal.
11. I hear about creation of new districts only. I don't believe in social media much. If development is going around, obviously I can sense it. But I am sensing nothing.