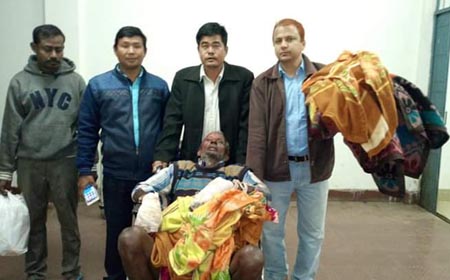 CM expresses concern at repeated fire incidents
[ Karda Natam ]
Daporijo, Dec 4: A man has succumbed to his injury which he sustained during the fire accident that occurred on 27 Nov at Abotani colony.
Deceased, identified as Rudal Rai(40), a native from Bihar had 20 percent burn injuries for which he was referred to Naharlagun for better treatment by the district hospital. However, he died on Sunday at Raga while being transported to Naharlahun hospital.
Public alleged that when Rai was brought to medical for treatment, nobody was there to take care of him fearing legal complicacy.
However, Dikbom Yekar and Tade Puri managed to arrange volunteers and other necessary items for him.
Local MLA Dikto Yekar paid for the ambulance and Rs ten thousand for treatment.
One person alleged that when Rai was admitted in the hospital the medical staff including doctors did not pay him the required attention. He said that Rai should have been referred to a hospital with better facilities. Rai would have survived, had there been better facility, said a source speaking to this daily.
OC Daporijo informed that he is yet to register any case related to fire accident or the death. Rai's body has been sent to Bihar.
Meanwhile, the Chief Minister Pema Khandu has expressed deep concern and anguish over repeated occurrences of fire accidents across the state, the latest being one at Pasighat.
34 shops of one APMC market shed were completely burnt down on Monday night at Gandhi Chowk, Pasighat causing huge loss to vegetable and grocery vendors.
Khandu has sought a detail report on the incident from the district administration while directing it to assess the loss caused and provide relief to the victims as per norms.
The Chief Minister repeated that almost all fire accidents can be prevented with just a sense of responsibility. He appealed citizens to act responsibly and douse every little fire before leaving their home or retiring for the night. He emphasized on extra vigil during the winters as most homesteads use fire for warmth besides cooking.
"We cannot douse a blazing fire without incurring huge loses but we can sure douse a spark or prevent a kindle from spreading and save ourselves and our neighbours. With common sense and responsibility we can use fire to our advantage, not for self-destruction. I fervently appeal all to be wary of fire and do not neglect a spark," the Chief Minister said.
He also gave strict directions to the administration and concerned departments to continue creating awareness amongst the people besides keeping fire-fighting men and machineries handy all the time.
The Chief Minister also called upon civil societies and individuals to extend assistance in whatever way possible to offer relief to the victims.
Meanwhile, twelve shops and nine godowns were devastated in the Monday's fire incident at the market area here in Pasighat district.
Earlier, it was reported that atleast 34 grocery/vegetable shops were gutted in the fire.
This was confirmed by East Siang Superintendent of Police Prashant Gautam.
Stating that the strength of the staff at Pasighat Fire station was less than the requirement, the SP instructed the officials to remain prepared and ready round-the-clock with fire-fighting equipments for any eventuality.
The SP assured to introduce two additional helpline numbers at the fire control room.