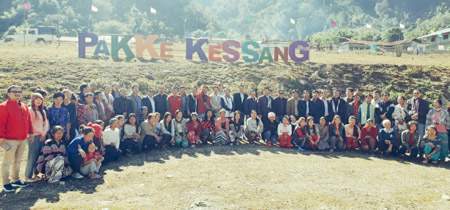 RICHI-JULLANG, Dec 6: The preparations for the celebration of the creation of Pakke-Kessang district were inspected by a joint team of the Nyishi Elite Society's (NES) central and local level celebration committees on 5 December.
The programme, which is slated to be held on 14 December, will be attended by a host of dignitaries, including Chief Minister Pema Khandu and Chief Secretary Satya Gopal.
The joint team inspected the programme site, the helipad, the circuit house and the inspection bungalow, besides the offices and accommodations of the deputy commissioner, the SP, etc, of the new district headquarters, which is to function from Pakke-Kessang for the time being, till infrastructure is created at Lemmi.
Local MLA BR Wahge outlined the progress of the works.
NES president Bengia Tolum expressed satisfaction over the preparatory works, and suggested that the event be made a memorable one.
"With the district headquarters at Lemmi and TAH connectivity, the floodgate of development would open with tourist inflow," Tolum said.
Pakke-Kessang EAC (in-charge) Abu Taba apprised the visiting team of the preparedness for the celebration.