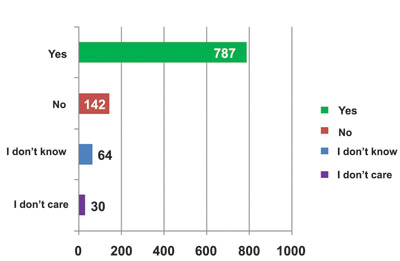 There were 1,023 responses, out of which 787 said that Arunachal Rising is a political gimmick, while 142 said that it is not a gimmick.
We reproduce some of the comments:
1. It's an honest endeavour to reach out to the people at their doorsteps. From the fact that many villagers availed benefits at ease which would be otherwise be a tedious process or people just could have forsaken their rights. It will definitely give them a political mileage but it would also be wrong to say it is just a political gimmick. Similar services are already taking place in Delhi through the Kerjiwal govt.
2. Desperate attempt to stay in power by the present government. They could not even manage proper road in capital and are talking about Arunachal rising. Wastage of public money.
3. It's totally a political one. The money involved could have been used for a better purpose rather than advertising. I believe the departments be made more responsible rather then moving the entire district machinery.
4. Arunachal Rising is BJP's pre-election warm up campaign which is materialised on taxpayers money to promote political gain.
5. No visible development is witnessed except verbal assurances.
6. Other than the sun rising, what else is rising in the state of Arunachal? As a common citizen, it is not visible to me.
7. It clearly is. On the other hand Government is busy creating districts after districts without any on-ground infrastructure and development. It is clearly showing a lack-lustre attitude towards serious issues, such as granting of PRCs, anomalies of statutory bodies such as APPSC which is clearly playing with careers of so many aspirants. Campaigns such as this are pure political gimmick, considering assembly elections are knocking on the door.
8. Imperatively a big yes. It is an advertisement before the general and assembly elections. Things are far from reality and schemes so implemented hardly reach the genuine recipients. Lapses are from both ends in terms of political will, the government and the common public.
9. Party line is becoming the primary issue in all aspects. Governing system, proper implementation of schemes, education and health facilities are the most neglected areas. Principle of true democracy is no more in the minds of responsible persons.
10. Arunachal Rising is ditto of BJP's 2004 India Shining campaign.