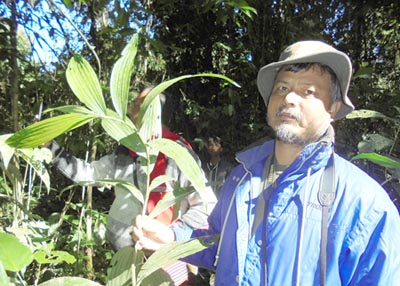 Correspondent
RUKSIN, Dec 30: A rare ground orchid species was found in the Poba reserved forest (RF) in Arunachal Pradesh during a survey conducted by a team of orchid specialists on Sunday.
Khyonjeet Gogoi, an orchid expert from Assam's Tinsukia district, told this reporter here that he could not trace the orchid species (Corimbolcis viridiflora) in the jungles of Arunachal Pradesh – except in West Kameng and Dibang Valley districts – during surveys he had conducted earlier.
The orchid species is found in Assam, and only in Karbi Anglong, Gogoi, who has been conducting surveys on indigenous orchids in the jungles of Assam and Arunachal since 1994, said.
The team, which included botanists and students from Assam, also recorded more than 10 epiphytic orchid species, including Dendrobium aphyllum, Dendrobium lituiflorum and Luria trichoriza, in the reserved forest, said Gogoi, who also is the founder of the Orchid Society of Eastern Himalaya.
Gogoi, a life member of the Orchid Society of India, foresees that commercial cultivation of indigenous orchids having medicinal and ornamental values can boost the rural economy in the northeastern states.
Meanwhile, the Orchid Society of Assam, with its headquarters at Silapthar near Likabali in Lower Siang district, has taken steps to conserve the indigenous orchid species found in the natural vegetations of Assam and bordering Arunachal Pradesh.
The society has constituted a two-tier committee, comprising a core committee and an executive committee, to carry out the conservation activities.