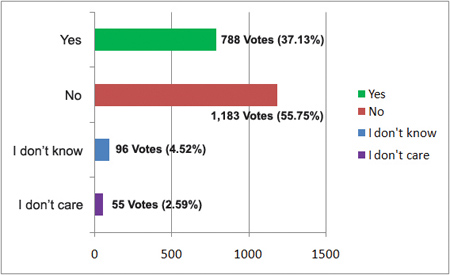 Of the total 2122 votes polled, 1,183 (55.75%) readers said they are not satisfied with Kiren Rijiju's performance, while 788 voters (37.13%) expressed their satisfaction
(see poll results).
The comments, however, are largely in favour of the minister.
Comments:
1. He should stop being a 'yes man' and start being more assertive about the rights of our state.
2. Albeit in a small way, he has been able to put NE, especially Arunachal, in the national consciousness. At least now the NE wouldn't be viewed within the narrow spectrum of alcohol, drugs, inter-tribal rivalry, etc, but be associated with leaders like Rijiju. Regarding performance, he is more of a mere symbolism of national integration. Nonetheless, a small step in the right direction.
3. Best ever MP from the Northeast after PA Sangma.
4. He is the most efficient minister from the Northeast, having a perfect harmony with the PM and other party leaders at the Centre. He has been instrumental in facilitating useful projects for Arunachal and the Northeast.
5. He is the tallest leader Arunachal Pradesh has ever produced. He is the icon of the entire Northeast region.
6. Maybe he wants to perform, but under the leadership of Prime Minister Modi, it's not possible, except for the development of cows.
7. He could have done many developmental activities and promoted a beneficial economy policy for Arunachal, but he failed as a union cabinet minister of India.
8. He is now baptized by the saffron terror ideology. a. He is silent on the Chakma-Hajong issue at the central level; b. Silent supporter of Citizenship Amendment Bill; c. Silent on the Tibetan refugee issue; d. Silent on the PRC issue to safeguard his government; and e. Responsible for undemocratic and President's Rule in AP.
9. Best ever MP from Arunachal Pradesh, Ninong Ering, too, is doing good.
10. The only satisfaction Mr Chief Guest offers is we get to see him on TV and social networking sites, and the remaining traits about him are just a blur.
11. He is all show but no work.
12. Honourable minister has lost his charisma and touch ever since the BJP came to power at the Centre.
13. He is one of the most young and dynamic leaders in India. He makes Arunachal proud.
14. We don't have better option than him for now, but hope Jarjum Gamlin Ete will replace him in future.
15. He is the face of the Northeast and Arunachal. He performs well as MP and as MoS.
16. He could have done much for the development of the state… but instead he became a bootlicker of Modi and started saying 'I don't eat beef.'
17. He has not taken any step towards the development of our state in general and West Kameng in particular in any of the primary sectors or issues related to the indigenous people of Arunachal. His last election manifesto was loaded with fake and lame promises. He has not lived up to the expectations of the youths of our state for a New Arunachal, so the 'youth icon' tag went in vain.
18. Kirenji's performance is good but he needs a lot of improvement for the development of his state, particularly his home constituency, especially in the roadways and airways bottleneck. He should represent all the people but not the political party. Let him know this feedback.
19. I am from Aalo. I voted for him three times, but he never tried to develop our area. Only go there to sing a Galo song. He has not brought a single scheme.
20. He should be given the post of MoS for Festivals. Lots of empty promises.
21. Not at all satisfied. Arunachal is where it was. No change, no development, nothing. The only thing that has been changed by KR is to become a tourist, a traveller.
22. I really don't know what he did for the state or the nation.