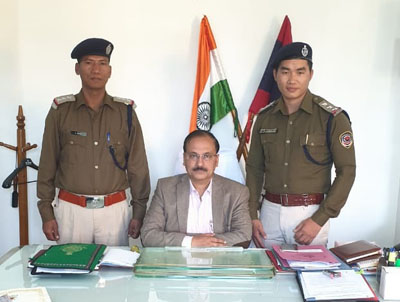 DG rewards Jomoh, Marik for C'Wealth Karate C'ship achievement
Staff reporter
ITANAGAR, Jan 22: P Nobin Jomoh became the first karateka from Arunachal Pradesh to win a gold medal in any kickboxing championship.
He achieved the feat in the WAKO India National Senior Kickboxing Championship, which was held at Dehradun, Uttarakhand, from 3 to 7 January.
Representing Arunachal Pradesh Police (APP) Sports Control Board at the championship, he won the gold in the +85 kg bodyweight category in the full-contact event.
Jomoh, who is currently serving in the APP as an inspector, had bagged two silver medals in the 9th Commonwealth Karate Championship held in Durban, South Africa, in 2018.
Meanwhile, Director General of Police (DGP) SBK Singh on Tuesday commended Jomoh for bringing laurels to the police department by bagging the gold medal in the national kickboxing championship.
Jomoh (Black Belt 5 Dan), a two-time state gold medal awardee, is also a World Karate Federation certified coach for Kata and Kumite events.
He has many a national and international gold medal to his credit. Jomoh, a four-time Commonwealth Karate Championship medal winner, has so far won five gold medals in various international karate events.
He also has many a first in his karate career. He is the first from the Northeast to win a karate medal in the Commonwealth Karate Championship, and the first karateka from Arunachal Pradesh to participate in the World Championship conducted by the WKF.
He has so far won 19 gold medals in various national karate championships and is 15-time state karate champion since 2004.
The DGP rewarded Jomoh for winning two silver medals in the 9th Commonwealth Karate Championship. Singh also rewarded Team India coach for the 9th Commonwealth Karate Championship, Inspector Bulang Marik, for the achievement.
Jomoh thanked DIGP Kime Kaming, APP Sports Control Board secretary and AIGP Kime Aya, president B Kamduk, AKA president Likha Tara and technical director S Deven Sharma for their support and guidance.Kickboxing Association of Arunachal president Tarh Tapak, vice presidents Rajmon Dolo and Soni Waii Sonam, and treasurer Biki Punung also congratulated Jomoh on the achievement.