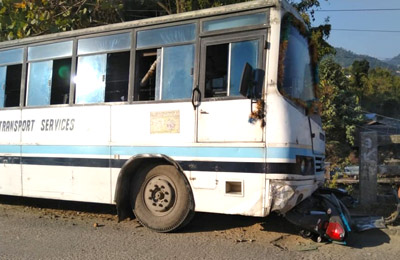 Staff reporter
ITANAGAR, Jan 23: An Arunachal Pradesh State Transport Services (APSTS) bus carrying 75 students of Kendrya Vidyalaya-II met with an accident here at Chandranagar on Wednesday and hit three vehicles before coming to a halt.
While all school children in the bus miraculously escaped unhurt, three people received minor injuries and one pedestrian received grievous head injuries.
Itanagar police station Officer-in-charge Tabi Bage informed that the APSTS bus bearing registration ARX-0449 was on its way to drop students of KV-II to various locations of the city when the brakes of the bus failed.
Before the bus hit the bridge, it hit a Tata Sumo, a Maruti car and a scooter, injuring four persons.
A pedestrian identified as Jumker Likar (19 years) of Kamba in West Siang district has received grievous injuries on his head.
The other three are Tapi Mara (30 years), Ruklar Raji (29 years) and a school student.
All the injured were rushed to the RK Mission Hospital here. The three injured have been released, while the person with grievous head injuries has been referred to the GNRC in Guwahati, Bage said.
A case has been registered in Itanagar Police Station under section 279, 338 IPC and the driver has been arrested, Bage added.
APST Station Superintendent Tuter Dolum said that the accident occurred due to a technical defect. Another bus was sent to pick up the children and drop them off to their homes.